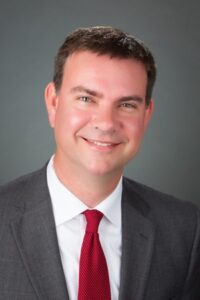 Brian primarily represents health care providers in health care liability and other types of cases. His clients include physicians, hospitals, nurses and other providers such as physician assistants and nurse practitioners. Brian also advises individuals and companies in the healthcare industry on HIPAA compliance, and has assisted providers with licensure and credentialing issues. Brian's litigation and trial experience is broad, including representation of plaintiffs and defendants in personal injury, professional liability, worker's compensation, and contract disputes.
Brian joined Cornelius & Collins in 2002 after graduating from Vanderbilt University Law School, and was named a Partner in 2009. He was elected Managing Partner in 2015 and continues to serve in that position.  Brian has been named to the Mid-South Super Lawyers list since 2018, and was inducted as a Fellow of the Nashville Bar Foundation in 2021.
Brian is a lifetime Nashvillian, having graduated from Hillwood High School and Belmont University where he earned a Bachelor of Science in Political Science with minors in History and Spanish.  Brian and his wife, Kelly, live in Nashville with their daughters Anna and Julia. In addition to practicing law, Brian enjoys travel, golf, politics, and history.